From the Promotional Trend Report
Human Signs LLC
1830 Del Prado Boulevard, Suite #2
Cape Coral, Florida 33990
(239) 573-4200 877-540-4411.
Boosting Morale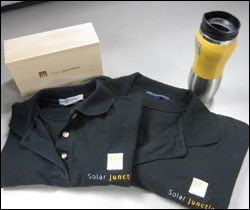 Buyers use promotional products to draw in consumers and potential business partners. The top use of ad specialty items is for business gifts, according to a promotional products usage survey, with 69% of respondents saying they use products as holiday or thank-you gifts. This is followed by trade shows with 47% and customer acquisition at 40%. But close behind are employee incentive programs, with 39% of end-users reaching for promotional products to reward productivity or improve morale.
Solar Junction, a solar cell manufacturer based in San Jose, CA, has used a handful of ad specialty items in its four-year history, all of them for internal efforts to improve the workplace or employee morale.
"It has been a great way to reward our employees," says Diandra Weldon, marketing director for Solar Junction. "It has really been a unifying thing."
Weldon began by ordering reusable travel mugs after employees expressed a desire to use something more environmentally friendly than Styrofoam cups. While it began as a simple solution to employee concerns, the yellow mugs, emblazoned with the Solar Junction logo, have become a part of the company culture, given to every new member of the team as well as to consultants, often before they even receive their business cards.
A similarly practical motivation led Weldon to order a set of branded black polo shirts for the company's 30-plus employees. With a staff made up mainly of engineers who spend their time getting their hands dirty working on projects rather than going on sales calls, few paid much attention to what they were wearing; if board members visited the office or an event came up, some staffers found themselves scrambling for something appropriate to wear.
"We were going to our first conference, and didn't have a booth yet, so I said, 'If we can all wear this same shirt, we will get some brand recognition out there,' " says Weldon. The shirts proved to be a big hit and continue to get regular use. "I have had to order several more because a number of the men have worn theirs out," she says.
To celebrate Solar Junction's anniversary recently, the staff went to a minor league baseball game that tied in a specially designed T-shirt as a souvenir. The employees were divided into six teams, with each team getting a different T-shirt. According to Weldon, some staffers were such big fans of the other teams' shirts that they ordered additional ones for themselves.
But the product that got the biggest response from the staff was a branded zip-up fleece jacket. The heating in the Solar Junction office is less than stellar, and the occasional chilliness had become something of a running joke in the office. So for the holiday party that year, Weldon ordered a warm, comfortable fleece jacket for each person.
"It got a great response – everyone got the joke," says Weldon, emphasizing that the jackets have since gotten plenty of use. "On days when board members visit, they can wear it and automatically have a nicer, more professional look."